Back to Blog
The Power of Connection: An Interview with Harry Siemens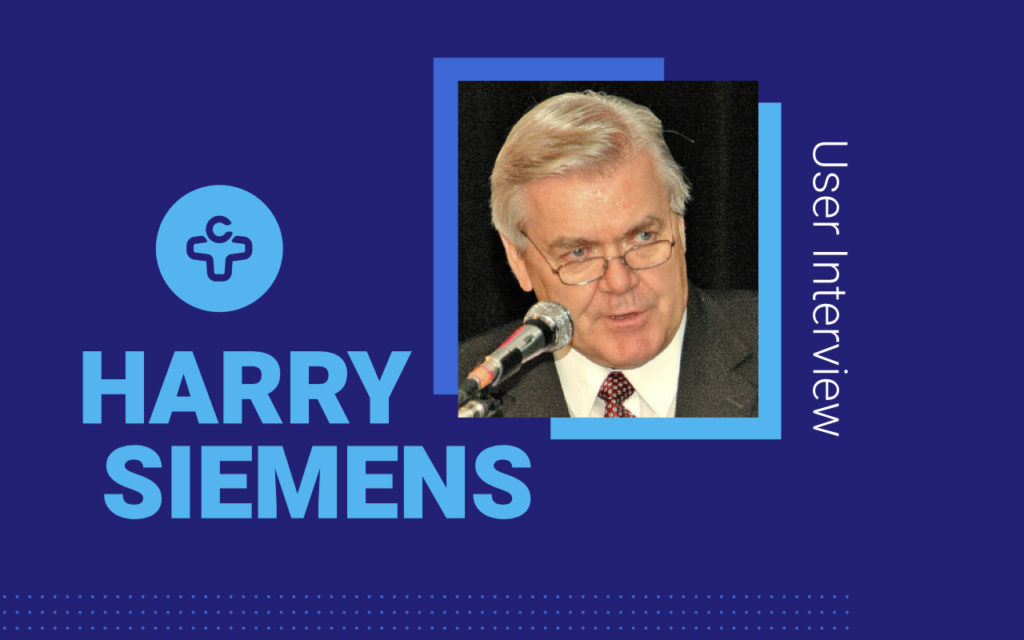 It's apparent through Harry Siemens' storytelling that he recognizes the significance of a connection and the value of a contact. As many of us have experienced, a connection and the conversations that follow weave themselves in and out of our lives in both predictable and unexpected ways. For Harry, what started as a conversation with his father turned into a lifelong career and thousands of connections. 
Harry recalls returning home from university to help his father and brother on the farm during tough times and though his father expected him to commit to farming for the entirety of his life, it was the furthest thing from Harry's mind. But when his father mentioned a job posting in the local paper for a broadcaster position, he was on air in less than a month beginning his career as an agricultural journalist. 
A 49-year career and nearly 24,000 contacts (plus 17,000 social media followers) later, Harry needed software that would help him stay in touch with all of the connections he had fostered. Since he has always "been on the edge of software, embracing technology early," including purchasing his first computer in 1982, he discovered Contacts+ for contact management after previously using Gmail and Outlook to store contact information. He had even briefly gone back to Outlook but returned to Contacts+ for its simplicity, flexibility, and ability to sync contacts across multiple accounts. He says, "I use it for keeping all of my contacts in one place, having all of my contacts at my fingertips." 
"I use it for keeping all of my contacts in one place, having all of my contacts at my fingertips." 
Since the start of his career in 1971, Harry prospered as a broadcaster, professional speaker, and agricultural extraordinaire but tips his hat to the connections that helped shaped his journey. Harry recognizes Louise Carduner as an influencer in the agricultural space with the ability to reach a new group of people through Farms of Canada, a fast-growing agriculture community. As for someone to look up to, Harry was taken under the wing of Orion Samuelson, a premiere farm broadcaster and host of the U.S. Farm Report. In addition to being a mentor, Harry also sees Orion as a friend, "Whenever I needed something, Orion was always there. He's one that I have always looked up to." Sadly, Harry lost his wife less than two years ago but cherishes the connections they built together, she as a nurse and he as a journalist. "When two people work together, it's 1+1=3. I have my work and I have my connections, and that's what helped me and pulled me through after being married for 47 years." And finally, coming full circle, he says, "Everything goes right back to my father. He saw the value in me becoming a farm broadcaster. He was my best friend; he always listened." 
"Anybody that has more than 20 contacts should be using it."
Whether it be a family member, friend, mentor, or colleague, Harry says, "Anybody that has more than 20 contacts should be using it." Contacts+ will manage your contacts with automated syncs across devices and accounts, enriched updates, and smart deduplication, but most importantly make sure your time is spent cultivating and creating connections. While Contacts+ is a contact management app, we know the power lies in helping you keep in touch with the connections that matter most.
Click here to learn more about Harry Siemens and SiemensSays.com.
---
If you're interested in sharing how Contacts+ enhanced your day-to-day contact management, big or small, submit your experience here.