Unlock More Opportunities with Contact Management for

Real Estate
Contacts+ is a smart address book for real
estate brokers, investors and real estate agents.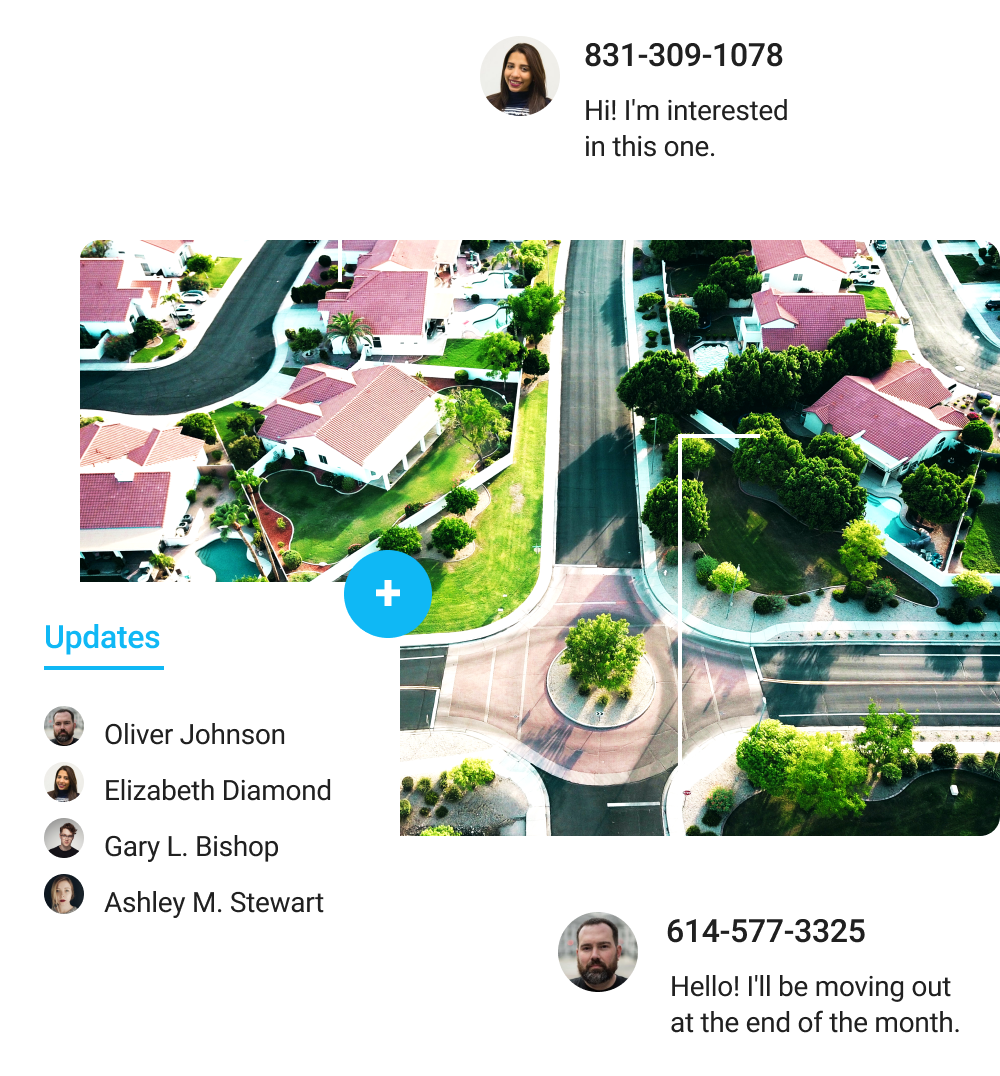 For real estate agents, brokers and investors, keeping tabs on prospects is essential to filling your pipeline and capitalizing on every opportunity.
Sure, you could do this on your own via a spreadsheet or traditional address book, but why wing it when you can employ Contacts+, the best real estate contact management system out there?
With features like automatic syncing and updates, and the ability to share contacts among colleagues and teams, real estate professionals all over are using Contacts+ to stay on top of their contacts and ensure nothing gets overlooked in their outreach.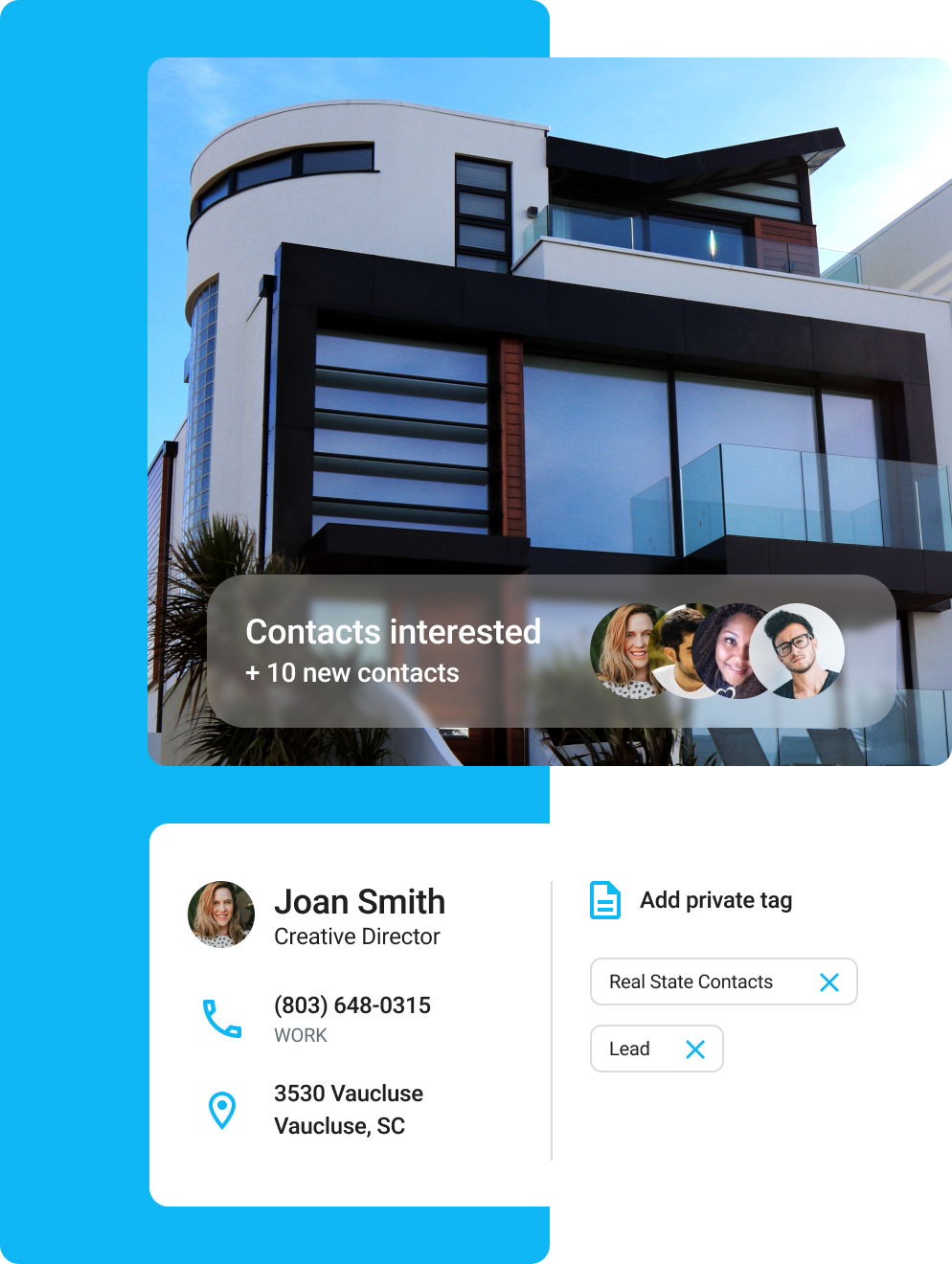 Sync Real Estate Contact Information to a Single Address Book

When it comes to real estate deals, your network is your most valuable asset. Over time, you may find that you've operated out of various different accounts, meaning your network is spread across numerous accounts as well.
You may also be working with different data sets depending on the operating system you're working in or how previous brokerages managed data.
The powerful real estate contact management app syncs contacts across all of your Google, Apple and Outlook accounts. No more switching from app to app to find complete contact data. Contacts+ is your single source of truth - on any device.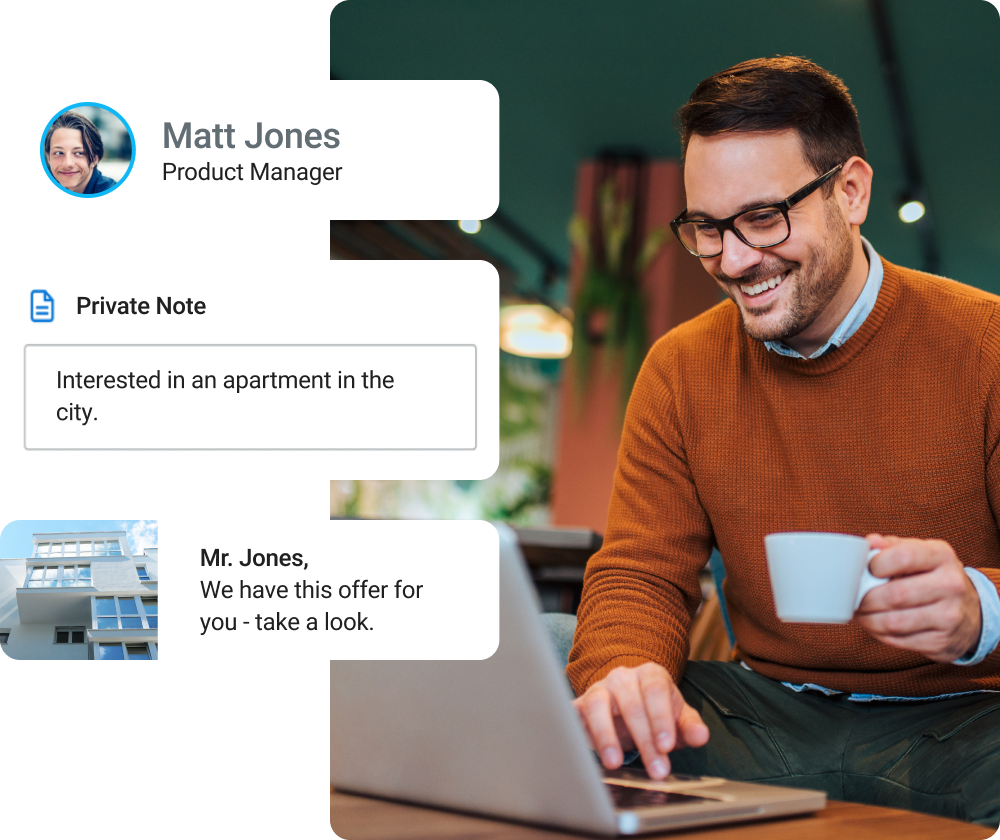 For the times when you're not on the go and working from the office, sync and manage contacts from your favorite browser. Contacts+ can be used from your desktop computer to take notes, add new leads, organize your contact lists, and keep contacts up-to-date with Assistant.
There's no preference here - Apple and Android users can access their synced, unified address book, make calls, scan business cards and manage contacts - all on the go.
Sign up now for free on your favorite device: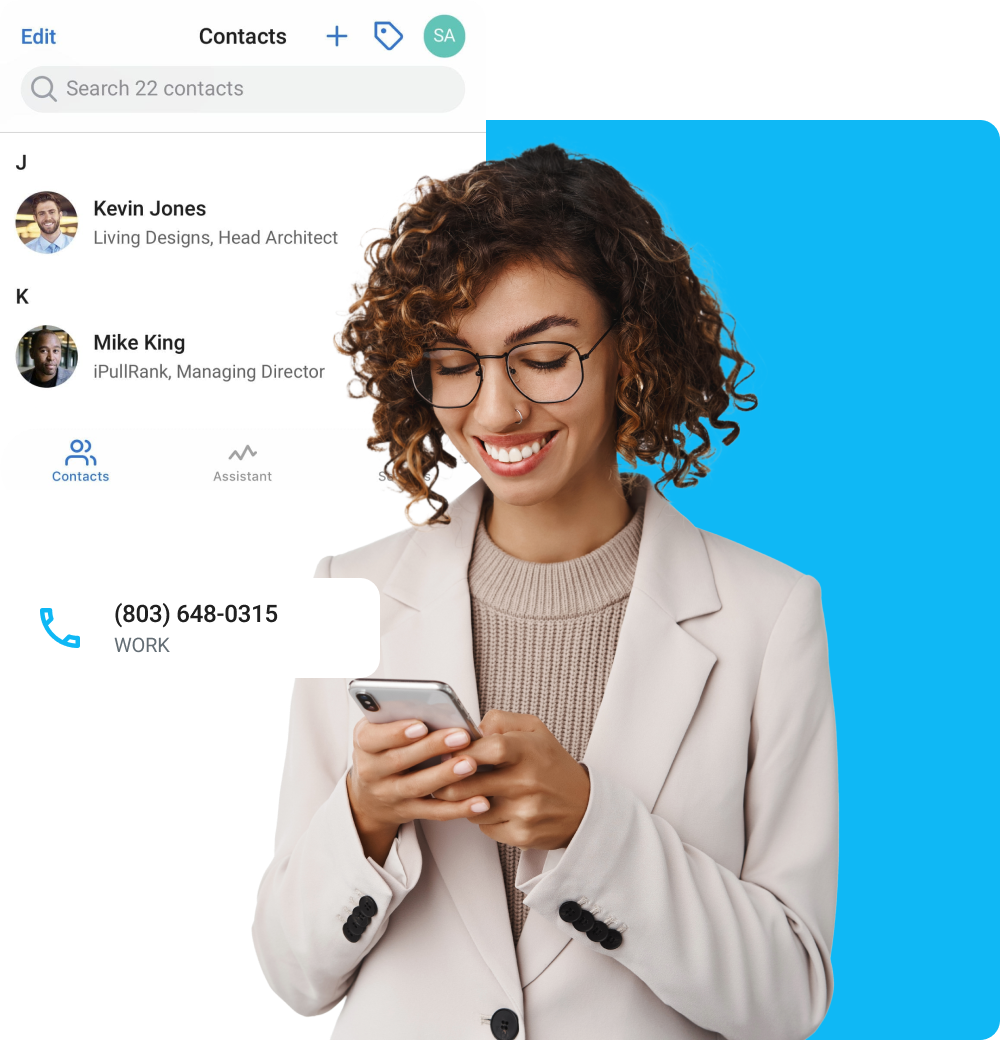 Find Missing Buyer and Seller Contact Information With Data Enrichment
According to Gartner, data decays at a rate of about 3% every month. That means that your contact database can quickly become inaccurate over time. But it doesn't have to be that way.

Contacts+ is more than just a synced address book for real estate. It routinely scans your contacts and provides missing and updated contact information that's publicly available.

That means you won't ever lose essential contact information and data, like
Email address
Phone number
Job
Website
Address
Social media handles
Profile picture.
Keep contacts up to date as they change jobs, move to a new area, or change contact information. With data enrichment as part of your real estate contact management system, your contacts stay clean and up-to-date so you can avoid the pitfalls of data decay.
Prospect and Connect with New
Real Estate Contacts
Brokers and agents are always building their network. Contacts+ makes growing your address book and connecting with new opportunities seamless and easy.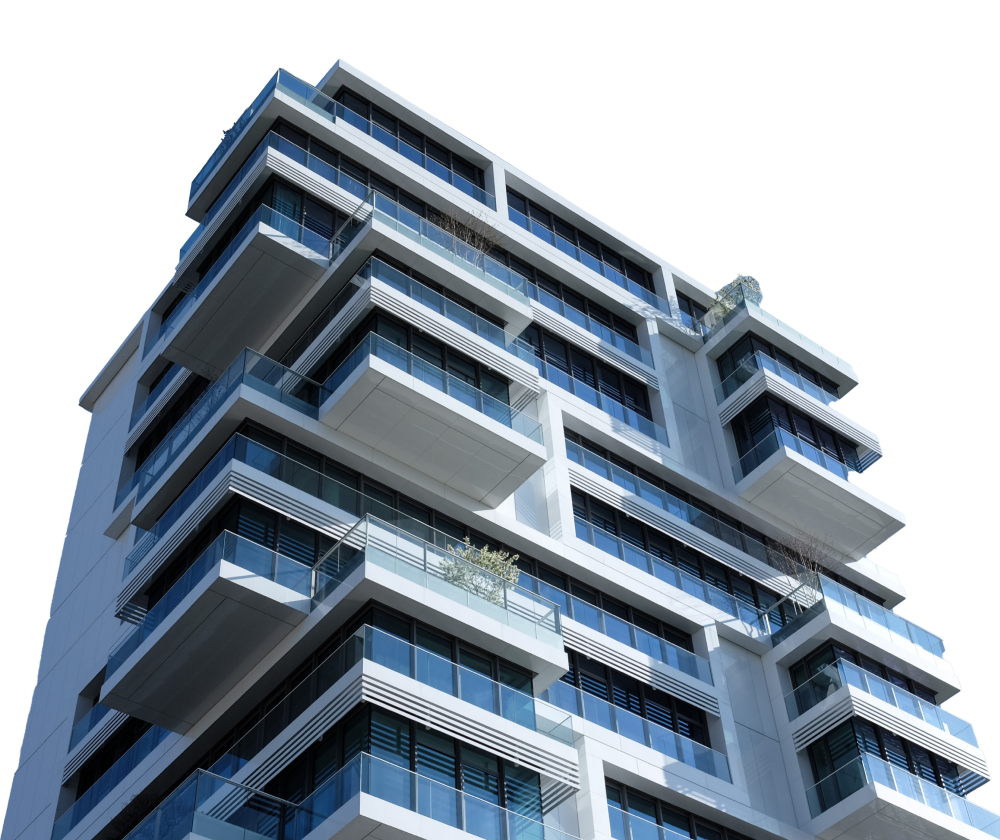 Use AI to Scan and Enrich Business Cards
Whether you're a broker working on commercial real estate deals or an agent attending your local BNI chapter, business cards are an easy way to collect buyer and seller information.

With Contacts+, you can instantly turn business cards into a contact record with the desktop, Apple, or Android app. Simply snap or scan a photo, and Contacts+ Business Card AI will capture the card information and create a contact record in your real estate contact management software.

Once the contact data is scanned and added to your Contacts+ real estate address book, Contacts+ routinely scans for contact updates - like missing or updated job titles, location, email addresses, and more.

Instead of a static business card, you have a dynamic contact record with complete, up-to-date information always at hand.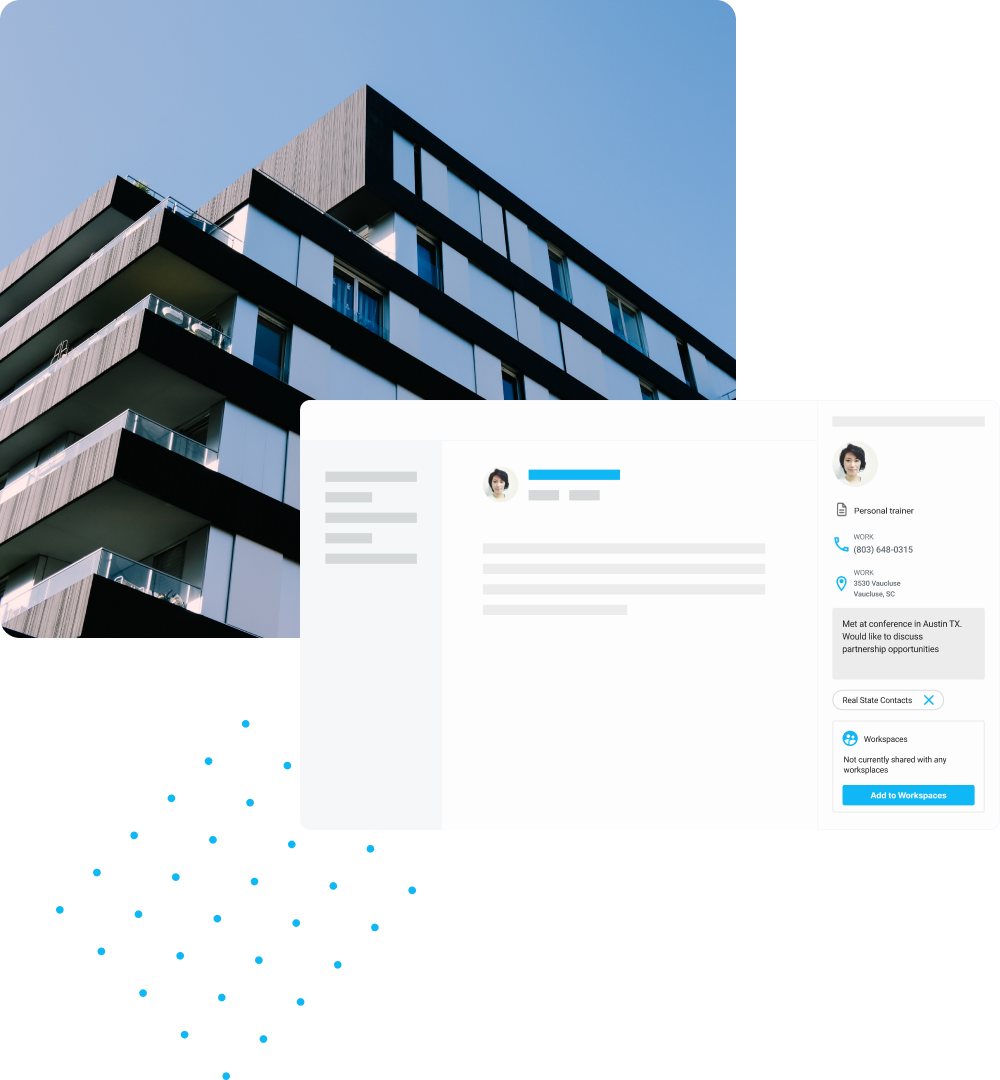 Create and Update Contacts from Email Signatures
Add & Enrich Social
Contact Information
Social networks like Twitter, Facebook and LinkedIn are valuable resources for real estate professionals. Not only can you instantly make new connections, but it's a great way to listen for buying and selling signals from your network.

Contacts+ Connector, a chrome extension, is a fast and easy way to add buyer and seller prospects found on social media to your Contacts+ real estate contact management software.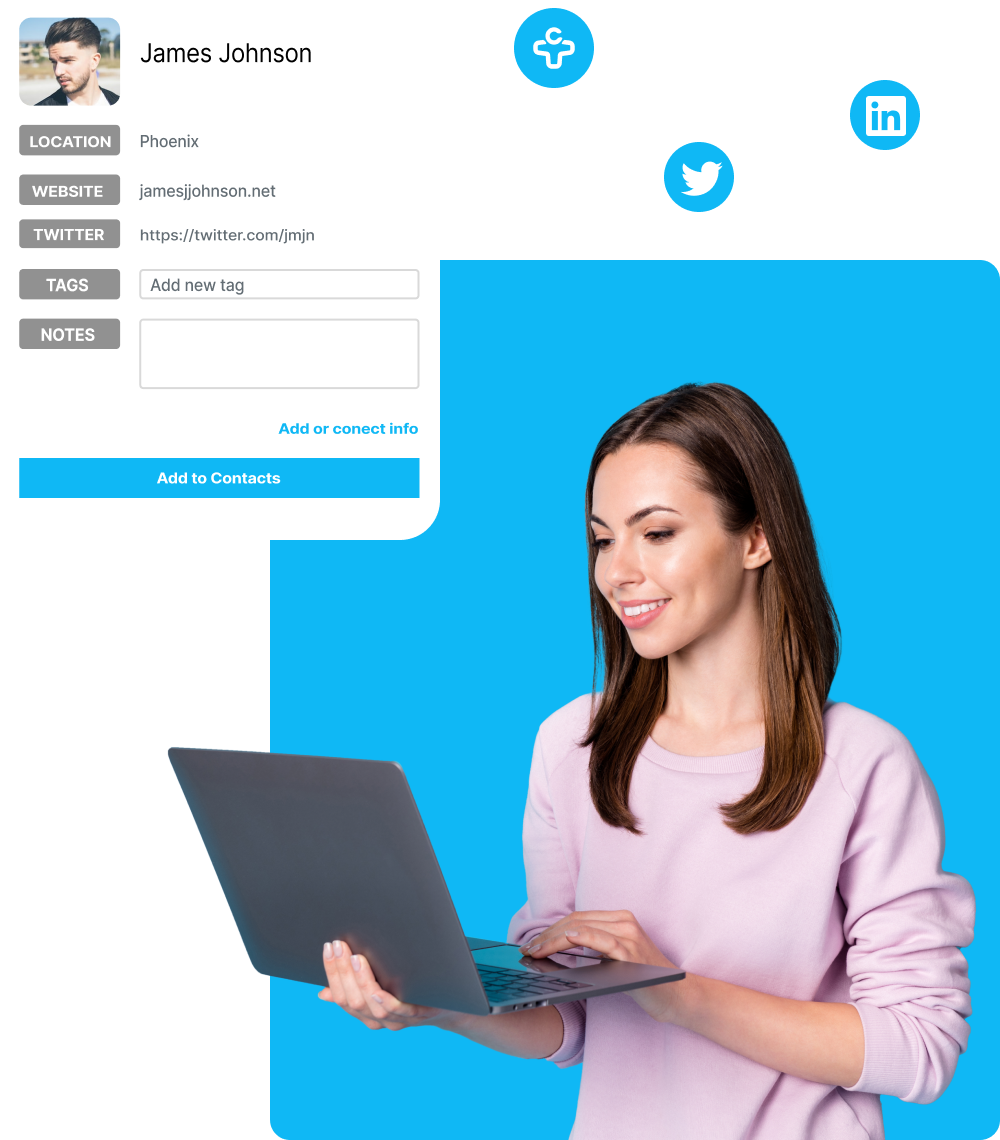 Contact management software for real estate agents keeps contact data clean and organized. Add tags to create segmented contact lists so you can quickly access your contacts.

Smart tags make it simple to pull up contacts based on certain criteria, like how the contact was sourced or which of your contacts has a birthday today.

Don't let stagnant data slow you down and hurt your chances of making that next deal. Contacts+ identifies outdated email addresses, dead website links, and empty contact records so you can cleanse your real estate address book of ineffective information. Plus, smart deduplication keeps your records neat and tidy (and who doesn't love being organized?)
With everything synced, cleaned, and up-to-date, you can spend more
time connecting with your real estate network and less time manually managing your
contacts.
Share Contacts with Teams
Easily share contacts between users in your real estate brokerage or real estate agency with Contacts+ Teams.

With a Teams account, you can create a shared workspace, enabling your users to add, share and manage contacts so your entire team can stay aligned and on the same page. Keeping a central real estate contact database with shared abilities gives agents, brokers, and other team members quick access to the most up-to-date contact information.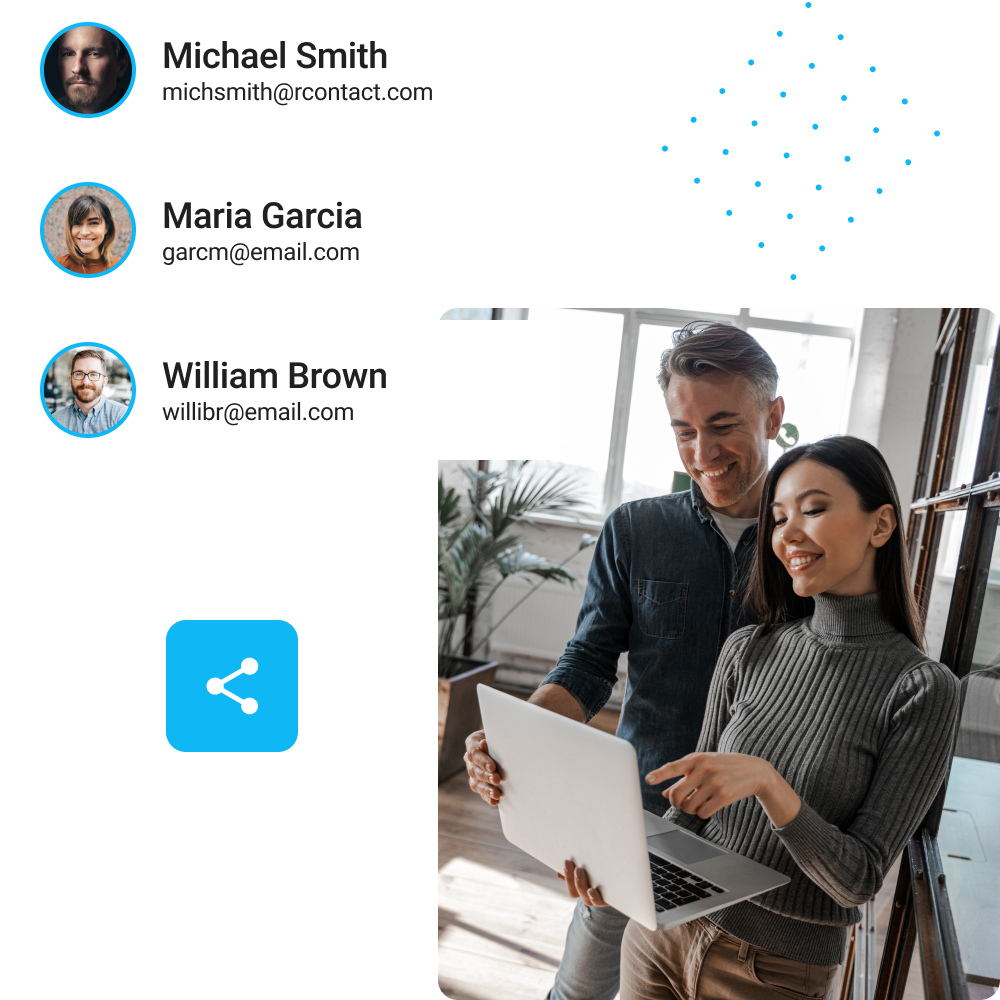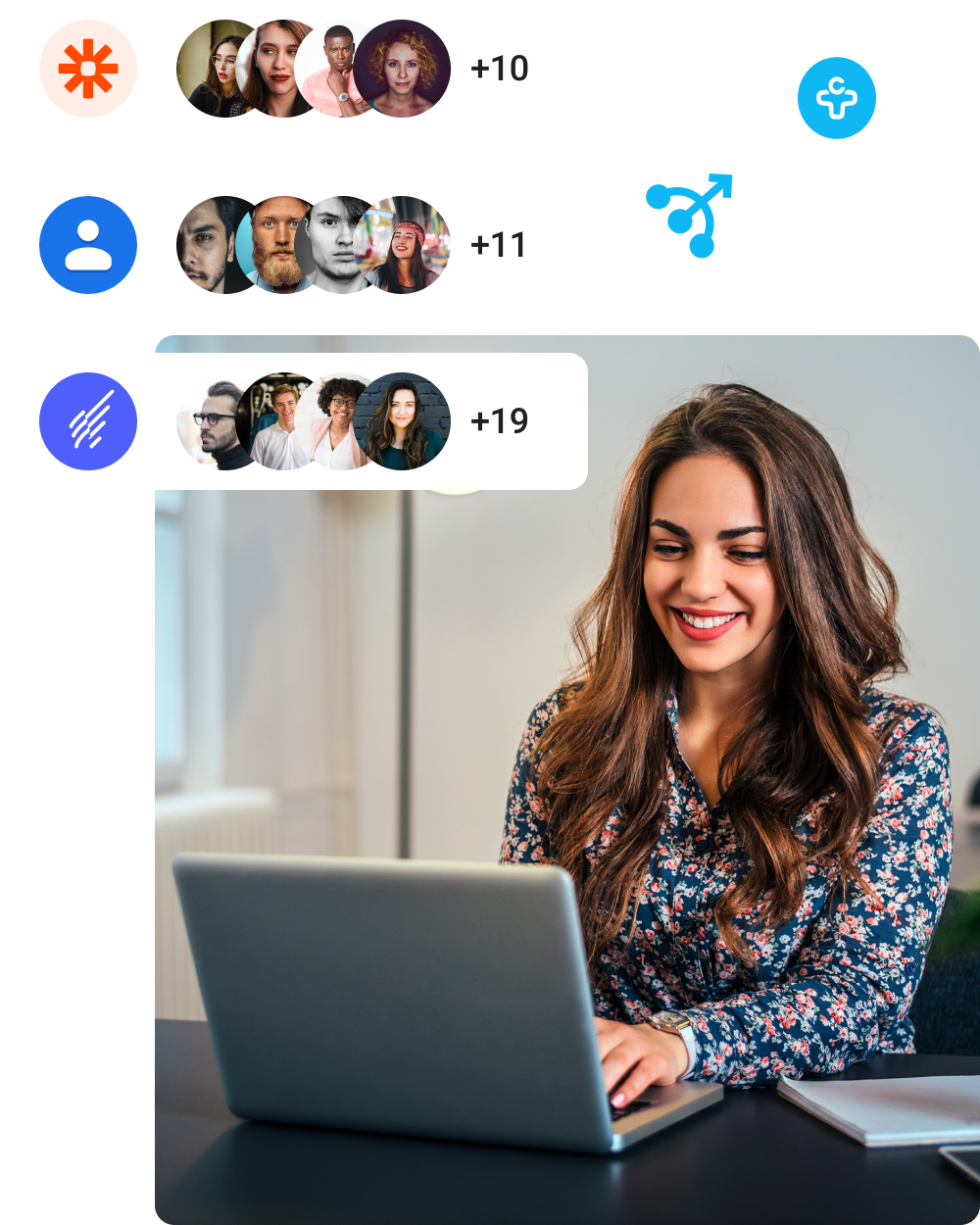 Integrate with your Favorite Real Estate Software
One of the ways Contacts+ makes your life easier is how it seamlessly integrates with other tools you use. Instantly connect Contacts+ to your favorite real estate software with our Zapier integration. Easily automate workflows between Contacts+ and apps like Zillow, RealScout, Wise Agent, Dotloop, and any other real estate apps that are part of Zapier's 5,000+ apps available for integration.

With Contacts+ as your real estate contact management solution, your contacts are enriched, up-to-date, synced across your address books, and available on all of your devices.