How Sales Executives Can Use Contacts+ for Better Contact Management
As a sales executive, you are tasked with increasing business profits while minimizing costs. Your sales process has to be laser-focused on generating new leads and finding ways to nurture your current customers. But with a constantly growing list of contacts, it can be difficult to track who needs a follow-up and when. That's where contact management solutions come in.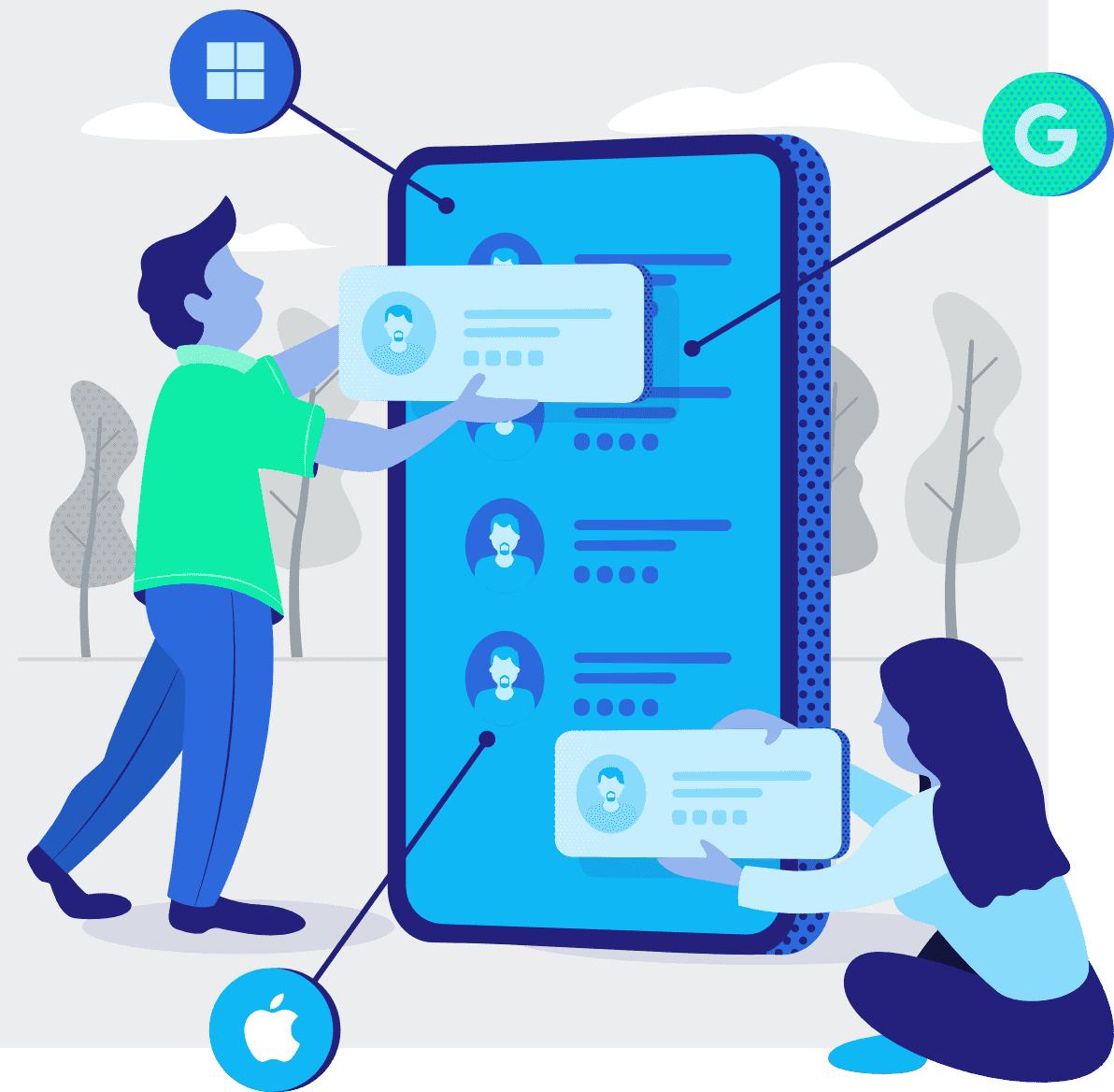 Contacts+ is a contact management software (CMS) that helps sales professionals keep track of their leads and customers, keep tabs on all their interactions, and ensure that no sales opportunities are missed so their sales process and sales pipeline are as effective as possible.
In this article, we'll explore why having a contact management system is crucial in assisting your sales pipeline and the different Contacts+ features that benefit sales executives and sales activities.
Why Sales Executives Need Contact Management Tools
Building and maintaining relationships with your clients is key to success. But with a busy schedule, it can be challenging to keep track of all your contacts within your sales pipeline.
Contacts+ contact management software can help you keep track of all your important contact data, customer information, and notes on your interactions with them. This can be a valuable tool when you need to access customer information and follow up on leads quickly.
As a sales executive, your success depends on your ability to cultivate and maintain relationships with your sales leads. Hence, the contact management system you opt for should:
Be designed specifically for sales execs or have features that help you discharge your duties effectively. Contacts+ has an array of features that complement what you do as a sales professional. It has all the features and functionality you need to manage your contacts effectively.
Be easy to use. You shouldn't spend hours learning how to use a new piece of software - you should be able to hit the ground running with it. Contacts+ is user-friendly, so you can start managing your contacts and customer relationships immediately.
Integrate with your other sales tools. As a salesperson, there are numerous sales tools in your arsenal, and you may want to bring the functionality of contact management software to the mix. You'll be able to integrate Contacts+ seamlessly with your other tools by using the Contacts+ Zapier integration. For example, want to access customer data that is more robust? Integrate Contacts+ with customer relationship management (CRM) software. Your contact manager can work seamlessly with your other sales and marketing tools so you can facilitate effective lead management, keep updated and organized contact records, and manage your customer relationships through every stage of the sales funnel.
With the right contact management software, you can streamline your sales process, which will help you check off more sales tasks on your to-do list, improve the customer experience, increase pipeline management, and lead to a shorter sales cycle. However, to achieve this sort of outcome, you have to meet your contact management solution halfway. There is only so much contact management features can do. Read on for some tips for successful contact management.
Contact Management Tips for Sales Executives
Below are tips for sales teams to use to improve their contact management game.
Clean Your Data Regularly
Solid and accurate contact data is crucial to pipeline management. When it comes to data, you must sort the good from the bad. You can only get the best from your list as a sales executive if your contact details are in great shape.
Regularly check for contact duplicates, inactive and dormant contacts, and missing information. Keeping your list organized and up to date is key to building and maintaining relationships with your prospects and clients.
Practice Contact Segmentation
While it's important to build relationships with your clients to hit sales goals, each client and prospect of yours is unique, with individual differences, preferences, and needs. Segment your contacts to be able to reach your prospects and customers with relevant messaging that encourages your audience to act.
Always Note Where You Left Off
Nothing puts a halt to your sales process, like not knowing where you left off with an important lead. For each contact, make sure you make note of your latest interaction within your contact manager. This not only helps you when you want to reach back out, but it also helps ensure other members of your sales team don't contact a lead you're already in negotiations with.
Contacts+ Features Every Sales Executive Needs
Below are the features of Contacts+ that will make you a better sales executive.
Centralized and Synchronized Contact Details
As a sales executive, you are always on the go, meeting new clients and trying to keep track of existing ones. Beyond that, you often have to juggle multiple client accounts and contact lists. This cannot be easy to track, especially when dealing with clients in different time zones. Having a central place where all client contact information is stored and synchronized can help you stay organized and efficient and keep you on top of your pipeline management.
Contacts+ can help you keep track of your customers' contact information in one central place. This allows you to have all the information you need at your fingertips, which can be accessed from anywhere.
With Contacts+, you can also synchronize your contacts across all your devices. Whether you are using your laptop, tablet, or smartphone, you will always have up-to-date contact information, and changes on one device are updated across all platforms. This can be a lifesaver when trying to get in touch with a client in a hurry.
Use our desktop version for the times when you're not on the go and working from the office, and sync and manage contacts from your favorite browser. Contacts+ can be used from your desktop computer to take notes, add new leads, organize your contact lists, and keep contacts up-to-date with Assistant.
There's no preference here - Apple and Android users can access their synced, unified address book, make calls, scan business cards and manage contacts - all on the go.
Sign up now for free on your favorite device:
Automatic Scans to Maintain Up-to-Date Information
Maintaining up-to-date contact information for your clients and potential leads is critical. An automatic scanning system can make this process easier by providing you with an automatic and accurate scan of all the details in your contact list. This will allow you to determine which contacts need to be updated quickly or which you need to discard.
With Contacts+, there are automated scans that you can customize, letting you know which contacts in your list have outdated customer data. That way, you can be confident that your list is only made up of contacts with accurate information.
In addition, you get notified about contacts with information that needs to be updated and any contact duplicates. This makes maintaining your list frustration-free and ensures that your client's contact information remains the same, irrespective of the device and platform.
Adds New Leads to Your Address Book
As sales executives, you need to be able to quickly and easily connect with leads and customers. An effective contact management system can help you stay organized, find specific contact information easily, and track your interactions.
Contacts+ automatically scans email signatures in your inbox for new contacts, contact details, and contact updates. This way, you can be sure that you not only have the most up-to-date information on your contacts but that you can grow your prospect list as well.
Plus, instead of manually adding business cards of new prospects to your contacts list, Contacts+ automates this process for you. With the scan and save feature, you can scan business cards and transcribe the information. A double-verification system lets you verify details before adding them as new contacts. This can save you time and hassle and ensure that you'll always have the most up-to-date information on your clients and potential leads.
Connect with new prospects and leads on social platforms with Contacts+ Connector. It lets you quickly add new prospects to your contact list from your browser. You do this by installing the Contacts+ Connector plugin, visiting the social profile of the contact you want to add, and clicking on the plugin to add the connection directly to your address book.
Teams Access
The best contact management software should not only serve individual sales executives but also make it easy for sales teams to access client information so they can connect easily and focus on closing more deals that lead to business growth.
Contacts+ Teams allows you to collaborate with team members and work together towards business targets and goals. You get access to a shared dashboard and can assign different user roles to team members for easy administration and organization.
Sales representatives can access clients' information from any device, anywhere, and anytime. And as mentioned earlier, sales team members can use notes to provide context for specific contacts, which is made available to all designated team members to avoid effort duplication.
Easy Integration With Other Sales and Marketing Tools
A great contact management software for sales reps will allow integration with other tools within your sales workflow and assist with your sales and marketing strategies. Integration with other business tools means you'll have all the essential client information at your fingertips to be referenced and used during your sales and prospecting activities.
Contacts+ features a Zapier integration that lets you connect your smart address book with over 5000 apps and services that can currently integrate with Zapier. With it, you can set up automated workflows and automatically add captured leads and prospects into your address book right from Zapier.
You can also use this integration to bring your contact manager together with a CRM solution. Using customer relationship management software in conjunction with a contact management app, like Contacts+, will give you even more insight into your prospects and customers, so you can facilitate effective email marketing and sales outreach and improve the customer lifecycle.
CRM software will allow you to track how your customers and leads interact with your website, content, and email marketing. It's this kind of customer data that will give you an idea of how to engage with your prospects better and what they're looking for to convert.
With Contacts+, you can easily connect with clients and prospects, as well as keep track of all their important data. Rest easy knowing that our tool means you'll never need to manually update your contact data to ensure your sales pipeline is current and optimized. Contacts+ lets you build and maintain relationships to close more deals, hit business goals, increase profit, and grow your business. Sign up today.