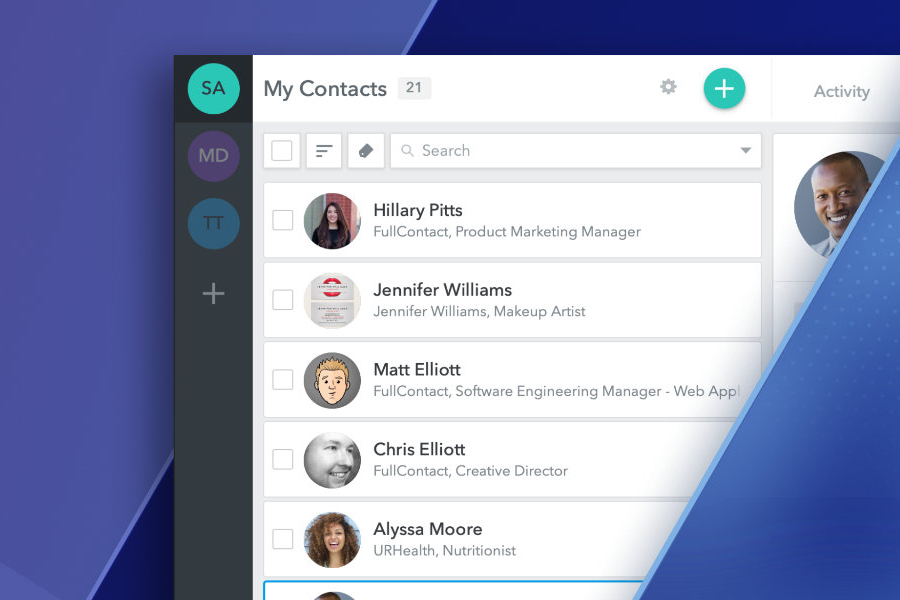 We're kicking off 2019 with exciting changes to our contact management app interface and updates to our Contact+ plans.
Interface Updates
You may have noticed some changes last week to the look and feel of our web and mobile apps. Our goal for this update was to make key areas of the application – such as sync sources, integrations, and workspaces – more easily accessible. Additionally, we aimed to make it even easier to create new workspaces for your various use cases.
What is a Workspace?
With this design update, we introduced the concept of workspaces. Workspaces are your different profiles within the Contacts+ app. Each profile has a distinct workspace since it can serve very different use cases. For example, you might have the following workspaces:
A

personal workspace

where you store and maintain your personal address book when you signed up to use the app as an individual

, this workspace is called My Contacts.

A

team workspace

where you share and organize contacts collaboratively with your colleagues. We see some teams use this type of workspace to share transcribed business card contacts after returning from a trade show or conference.

A

small business workspace

where you maintain a "single source of truth" customer list. Small businesses use this type of workspace to organize their trove of customer data and sync it across 150+ SaaS apps with our built-in, two-way syncs.
How do I create a Workspace?
Creating a workspace only takes four simple steps:
In the web application, select the '+' icon to start the process of creating a new workspace.
If you already are using Contacts+ as an individual, you'll be given the option to create a shared workspace perfect for businesses and teams.
Create a name for your new shared workspace.
Select a source to import customer data from or start from scratch!
Contacts+ for Teams Now with Options for Small Businesses
In addition to interface updates, we've also released new plans for our Teams & Small Business suite of products. Our plans for Teams remain great for small teams (we recommend 3-15 members) who are looking to share & collaboratively update contacts together. We see these plans typically used for business development teams, real estate groups, and families – just to name a few.
Our Small Business plan is our newest offering that has added functionality on top of the shared address book that Contacts+ for Teams offers. With a Small Business plan, your company can create a "single source of truth" for your customer data that can be automatically synced two ways with 150+ leading SaaS apps such as MailChimp, Hubspot, Copper CRM, and Nimble. The SaaS syncing feature is powered by our partner PieSync and the full list of SaaS products PieSync supports syncing with can be found here.
Getting Started
You can create a Contacts+ account here or learn more about our contact management pricing and plan options.