Back to Blog
How to Use Social Media to Grow Your Contact List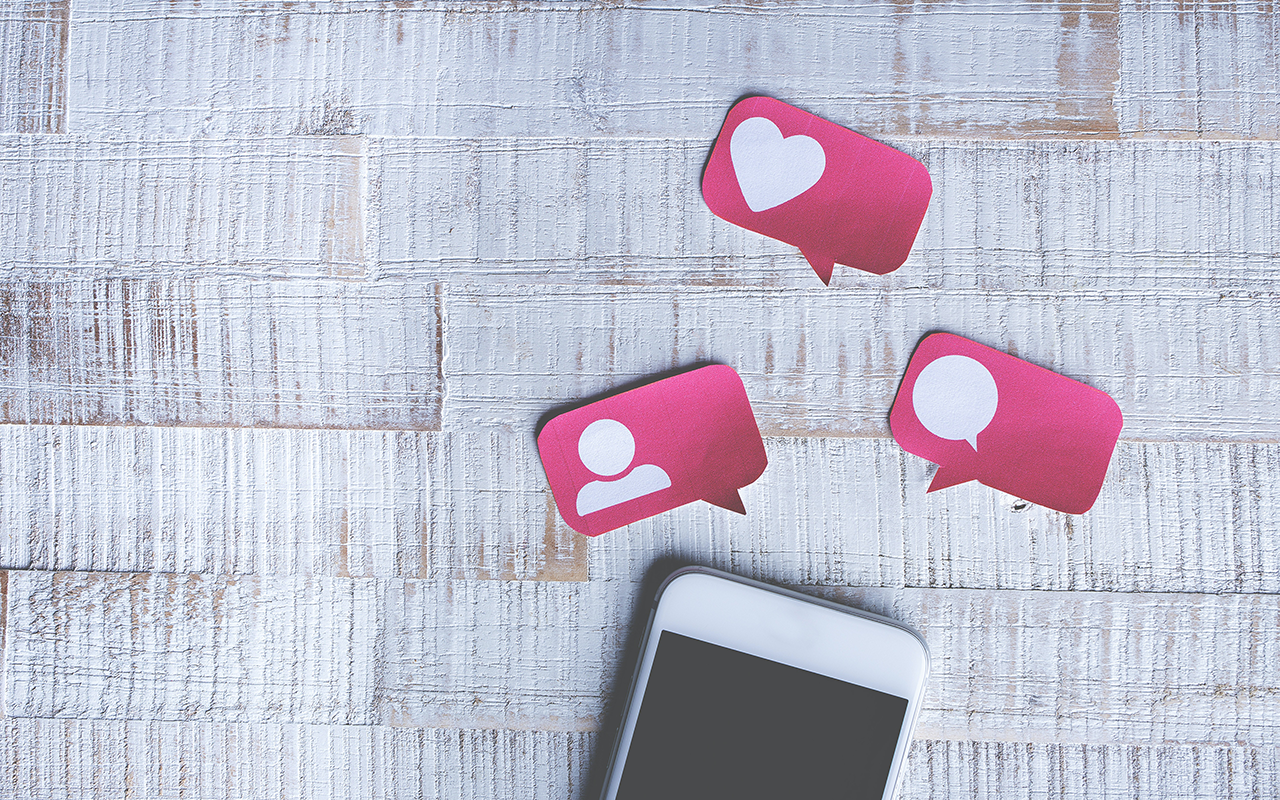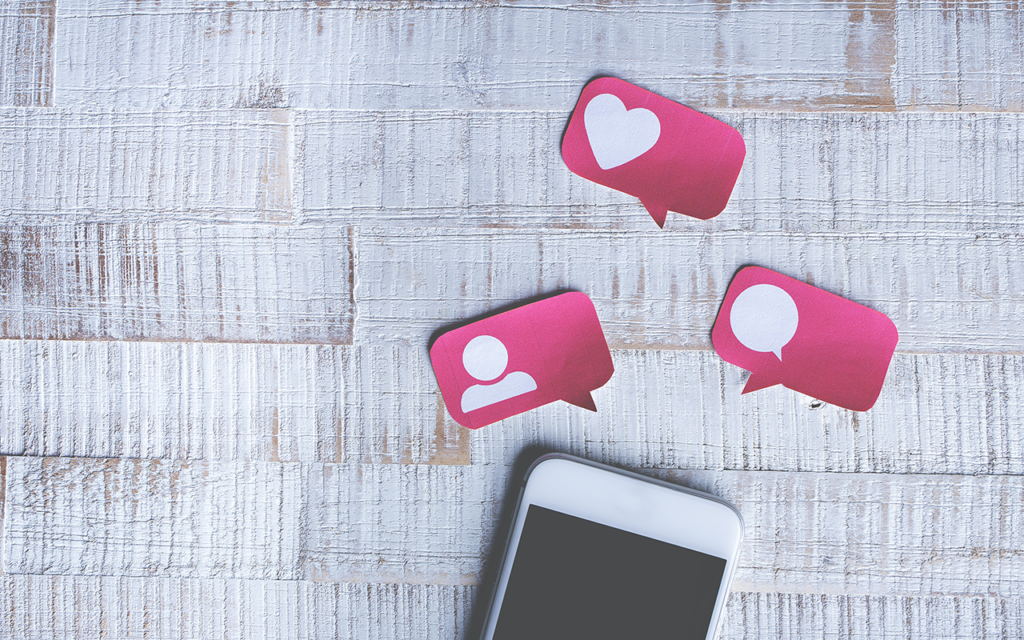 How to Use Social Media to Grow Your Contact List
Social media is an online universe where 56.8% of the global population meets to entertain themselves, interact, connect, share information, and engage with news content. With internet users spending more and more time on social platforms, there's a good chance that if you put your content out on social media, your leads and customers will find you. 
Whether you're a venture capitalist, real estate agent, or investor, social media has plenty of opportunities for your business. In this article, we will break down tips for using social media not only as a means for personal branding but for growing your network and contact list. But first:
Why Use Social Media to Build Your Personal Brand?
Your personal brand refers to how you present and promote yourself to the outside world. It's about building a persona that reflects your experience, skills, and personality.  
Building a personal brand on social media entails defining the values and themes you stand for and then creating and sharing content around them. Doing so builds personal connections and develops trust and authority with your social media followers (and it can increase your following in the process). 
When social followers trust you, it becomes easy to build relationships with them and influence purchase decisions. For example, if you have a line of shoes, your social media followers typically follow you because they like your product, trust its quality, and want to see more products from you. Since 71% of people purchase based on social referrals, it's easy to sway them into buying the shoes you create. 
Tips for Growing Your Contact List Through Social Media
Here are some tips for leveraging your personal brand to grow your contact list on social media:
1. Host Live Events on Social Media
Remember: more than 26% of internet users are on social media to share and discuss opinions. If you host a live event on social, covering a topic your followers care about, a good amount of them will be interested and want to take part. But, how will you use this opportunity to grow your contact list? 
Let's say you're hosting a Facebook Live event. To grow your email list, make sure the event offers absolute value to your followers so that they stick around. Mention the call-to-action at different parts of the live video so that the followers understand what's required of them.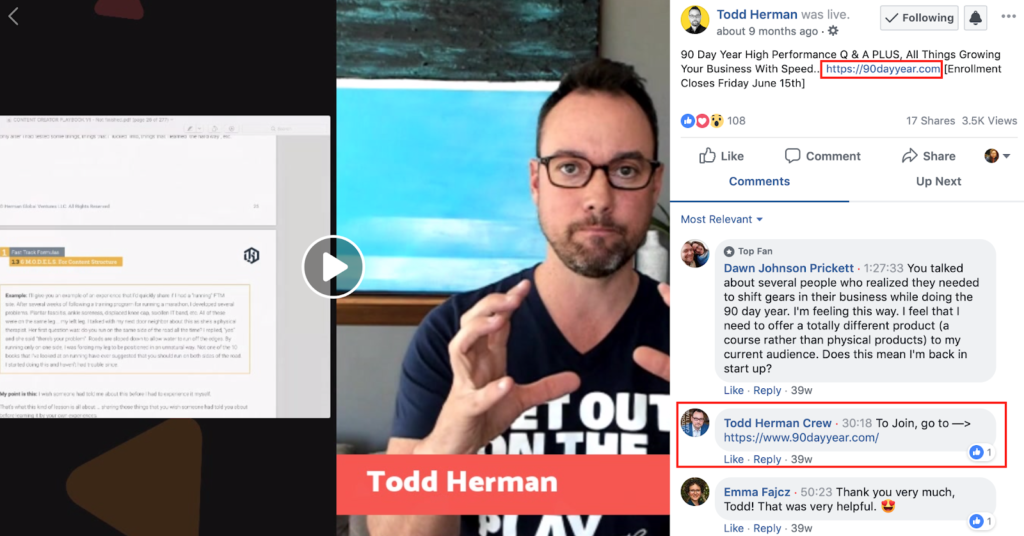 In addition, if you're teaching followers how to use a new feature of your software, be sure to add a link to complementary resources. The link should send followers to a landing page on your website where they can fill out a form to download the resource. Make sure the form asks for information like their name and email address and state that you'll be reaching out to them. This will allow you to keep in touch with them and build your network. 
2. Create Targeted Ads on Social Media
Facebook ads can reach 36.7% of the world's population; other social media platforms have a commendable reach, too. 
Create a Facebook ad and tweak various filters so that the ad reaches people who match your buyer persona. Add a signup CTA and make sure the message is relevant and to the point. This way, you will boost the chances of getting contacts who are interested in your products or service. 
3. Link Your Sign-Up Form in Your Social Profile
Each day a chunk of social media users stumble upon one of your social profiles: Facebook, Twitter, LinkedIn, and more. The chances are that if you add a link to a sign-up form to your social profiles, you will capture their contact information with very minimal effort. 
Take freelance writer — Masooma Memon — for example. When you visit her Twitter profile, the link to her email newsletter stands out. When you click the link, it takes you to the newsletter sign-up page.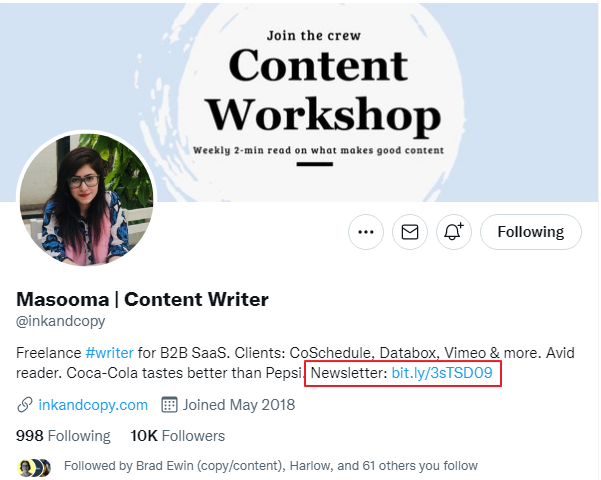 Facebook also allows you to add a signup button to your profile page. However, since the button itself isn't conspicuous, we recommend adding a feature, like an arrow, to cover the image so that it points to the sign-up button.
4. Promote Gated-Content on Social Media
29.3% of internet users spend time on social media to see what other people are talking about. They are traversing the social media landscape to uncover trends and learn about things that are shaping their industry. 
If you create a thought leadership piece on key topics that interest your audience, many followers would be yearning to consume that content. If you gate that content and ask readers to provide their email address to gain access, a good number will oblige because they know in return they'll be receiving expert insight that they can't find elsewhere. 
5. Use Contacts+ Connector for Chrome
The methods previously mentioned are great for adding a lot of contacts to your list; however, sometimes, when you're pursuing specific clients, it pays to look up their contacts individually. This is where Contacts+ Connector comes in handy. 
Contacts+ Connector is a reliable Chrome extension that lets you gather contact information from social profiles and automatically add them to your address book. You only need to visit the social profile of your target customer, and the extension will scour the profile for available contacts.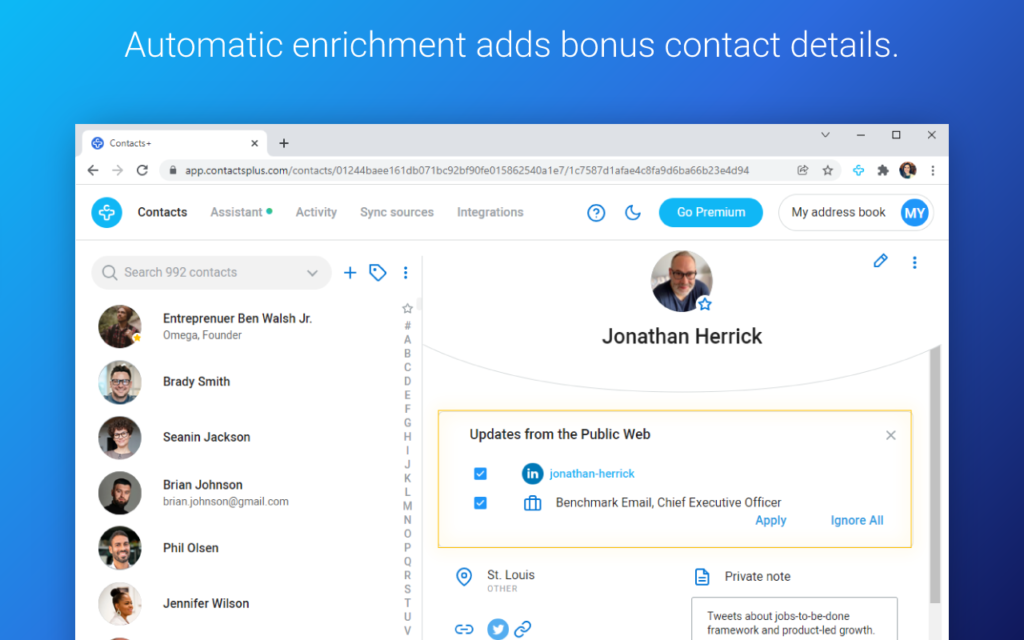 If account-based marketing is your strategy of choice, or if you're corresponding with a contact regularly on social media, this extension is great and will make growing your contacts and contact management so much easier. 
Build a Trusting Relationship with Contacts
Building your contact list is never fully complete. But as you build it, you also want to be thinking about how to foster lasting relationships with all these great new contacts. The foundation of a healthy customer-brand relationship is proper two-way communication. Make the customer the focal of your communication: have conversations with them, ask for their feedback and respond to their comments/questions promptly. 
If you're using Contacts+ to organize and manage your contacts, consider integrating it with a CRM and email marketing tool so you can facilitate efficient and effective email outreach. You can keep track of your outreach and create personalized, automated campaigns to continue building relationships while you're busy doing other things. 
We hope these social media tips will help you as you continue to grow your contact list. Don't be afraid to get creative and try new approaches, but whatever you do, do not neglect the power of your social media presence.