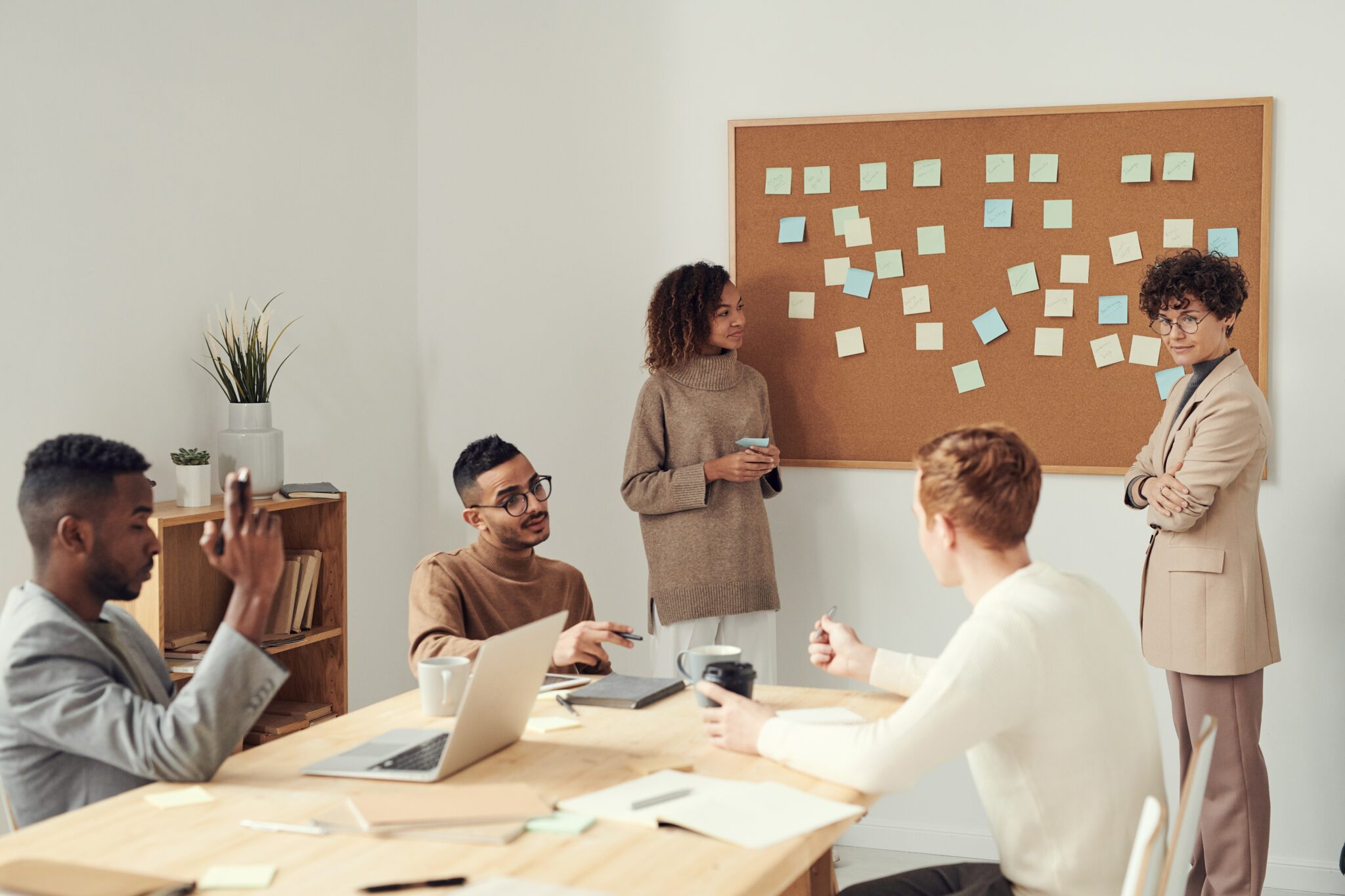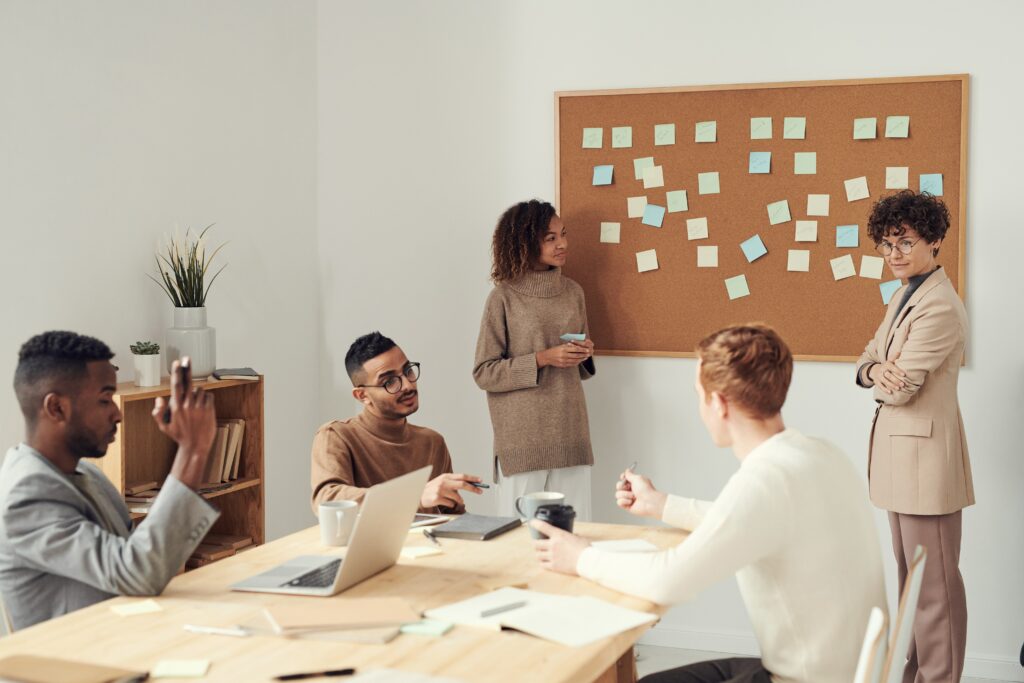 So, you're building your business and adding to your team.
This is a huge accomplishment. But for someone who is used to doing things on their own or who has been on a team of one for a while, you may feel like a fish out of water. 
When scaling up, there are a lot of things to keep in mind. In any organization, many individuals must work towards common business goals together, but they might each have different beliefs, values, ideas, opinions, and expertise. There can be issues for the business if team members are unable to respect individual differences. To avoid problems, prioritizing effective collaboration within your team is crucial. 
Collaboration recognizes individual differences but tasks individuals to use those differences in a positive way as they work together towards a common goal. In a collaborative workplace, members combine experiences, skills, and knowledge to fast-track projects and achieve key objectives.
Building a strong collaborative environment is not an easy task for any workforce. Still, with the right tips, digital tools, technological innovations, and strategy, your workforce can begin its journey towards building the team you need.
Tips for Building Trust amongst Team Members
Trust is essential for collaboration amongst team members. It creates an atmosphere of honesty, mutual respect, and safety. When you foster trust, you develop a culture of inclusion and build on employee engagement, which motivates team members to produce quality work for your organization.
To foster trust in your workplace:
Listen to your team members more than you speak. Allowing team members to express their ideas and genuinely listening to them builds the foundation for a positive workplace relationship.

Ask for feedback from team members, identify strengths and weaknesses, and take action to improve problem areas. Communicate feedback results with team members and keep them informed of steps that you will take to rectify the identified problems. It encourages transparency and makes your team members feel valued.

Appreciate your team members for their contribution to your business. Payment alone doesn't express your appreciation for what they do.

Trust your team members to get the job done. Just as you want your team members to trust you, you need to demonstrate that you trust them too. Avoid micromanaging them for assigned tasks and give them the professional autonomy they need to thrive.

Be consistent in your mood, performance, and values. Be sure to continually lead by example, displaying actions that you want your team members to emulate. 
Tips for Work Allocation
In a collaborative workforce, everyone works together to achieve success and hit business goals. Allocating work to team members is one of the tasks you must take care of. Improper work allocation can lead to resentments that are not good for the workplace atmosphere and could even cause project delays.
How do you allocate tasks for effective collaboration? Here are some tips:
First, get up to date with the workload and identify active projects, plans, and timelines. Divide the workload into smaller tasks before you start to allocate it.

Assign each task to appropriate team members

Discuss the roles, specific details, and what is expected of each team member for project success. Be clear about the tasks and timelines.

Have one-on-one meetings with team members. Be open with them, ask if they anticipate any major challenges with the assigned task, and let them know they can come to you if there's any problem.

Avoid giving tasks to high-performers all of the time. Sometimes, they want to take breaks, and it's only fair to give other team members opportunities to shine.

Prepare for adjustments. Sometimes, there might be minor challenges that could impact plans and timelines, and extensions could be needed.
Tips for Touching Base with Team Members
Touching base with team members is great for feedback, healthy relationships, improving employee performance, and driving engagement. However, when done the wrong way, team members begin to feel micromanaged. The tips below will help you make the most of check-ins:
Develop a regular schedule for touching base with team members and stick with it. If you won't be able to make it, inform them ahead and encourage them to do the same.

Avoid doing a performance review during check-ins. Instead, listen to what your team members have to say. Practice active listening and make room for them to report, share, and come up with ideas.

Be prepared for each check-in. Know what your team members are working on so you can ask the right questions or provide valuable insights to them.

Make the meetings brief, so it doesn't take away from the time needed to complete assigned tasks.

End the meetings with concrete action plans and key takeaways.
Tools to Use for Effective Collaboration
Now that the organizational tips are marinating, it's time to discuss some helpful, collaborative tools out there you may want to start using. 
With the right digital tools and software, your growing team can improve collaboration, get more done, and stay aligned on priority tasks and strategies.  
Below are some examples of the tools your growing team needs for effective collaboration and task management. 
Contacts+ has a ton of features that are sure to make your life easier. Our contact management app is perfect for staying up to speed with your important contacts, ensuring that your networking game is on-point, and keeping your productivity as high as possible.
Contacts+ syncs across multiple accounts, so all your contacts are in one place. Our system automatically refreshes your contact data and merges duplicates, so your address book is always up to date. 
Contacts+ is perfect for teams. You'll have access to a team address book, so you can share specific contacts and use tags and notes to keep your team aligned on the status of each. 
Every growing team needs a project management tool to keep your projects moving smoothly. Use Asana to keep track of each important initiative, so your team knows exactly who's in charge of what. You can organize and assign tasks, so nothing gets lost or loses steam, and you can map out a plan that works for your internal process. 
Integrate your Contacts+ app with BenchmarkONE for a 360 view of your contacts. Use BenchmarkONE's all-in-one CRM, and you can not only keep track of what stage of the customer journey your contacts are in, but you can also utilize marketing and sales automation to generate leads on your website and set up automatic drip campaigns that nurture your leads closer to a sale. 
With Benchmark Email's CRM, you can see notes and previous outreach activities you and your team have performed, keeping everyone on the same page regarding the status of your contacts. 
Slack is a great communication tool for remote teams. If you have a team on the go or if everyone is working from home, utilize Slack for quick and easy communication. You can even hop on a quick call if typed communication will not do. 
Dropbox is a great tool to use for secure file management and sharing. If you have important contracts making their way through your team for approvals and signatures, use Dropbox to share them safely and quickly. 
You're busy and constantly on the move. In-person team meetings aren't always a possibility, so use Zoom to get in some face time with your team members. Sure, a phone call would suffice, but there's nothing like seeing the faces of your team to help establish and grow comradery and collaboration. 
Building a successful collaborative work environment will take some time and effort. Use the tips and strategies in this guide to build the team environment you need. You may not see results immediately, but this long-term investment in fostering a collaborative workplace is sure to positively impact your business.