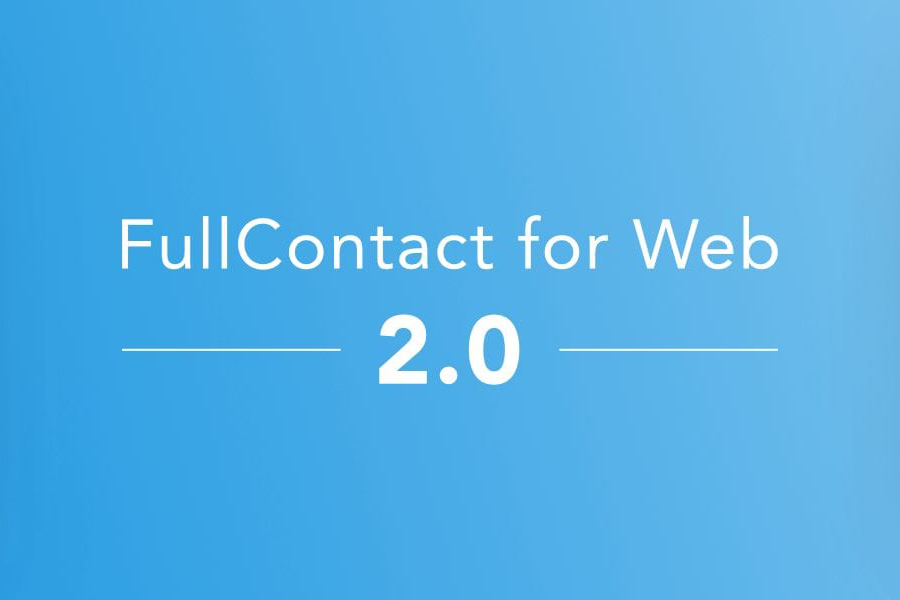 Today we're announcing the release of FullContact for Web 2.0 – including a brand new design and new features. This is the first step in a wider effort to simplify our apps and improve our users' overall experience with our apps.
Why did we change it? We received lots of feedback that our design wasn't as modern as it could be, and that our settings and layout weren't particularly intuitive. Also, it was time to adopt some cutting edge technologies to improve our app's performance and make it easier to add new features.
As a result, we decided to rebuild the app from the ground up. Over the last few months, a select group of customers has been testing it – and today we're finally ready to show it off to everyone.
In the coming months, we'll continue adding new features and other improvements. We won't rest until FullContact is the only contact app you'll ever need.
We hope you like it. Here's an overview of the important changes:
New Design
When you login, you'll notice the most obvious difference: the new design. We've drastically simplified the look and feel of the app, as well as adopted a more modern aesthetic.
More importantly, FullContact is easier to use. We simplified the navigation, as well as streamlined several important workflows like importing a file or a business card. Your time spent using the FullContact for Web app should now be much more efficient.
New Dashboards
In the new version, you'll see two different types of dashboards depending on the status of your account.
For new customers – or if you haven't fully set up your account – we'll show you a series of tasks to get your address book in good shape. For example, a key step is connecting your Google, iCloud, or Exchange/Office 365 accounts:
By completing these steps, you'll be able to get a lot more out of FullContact.
After you're done setting up your account – or if you just want to move on – you can hide the setup checklist in favor of a dashboard showing you recent activity like business cards, email signatures, and other changes:
This dashboard should give you a good feel of the overall state of your ever-changing address book.
New Settings
In the new version, we've simplified the Address Books page and renamed it to Settings.
More importantly, now each account – including Google, iCloud, or Exchange/Office 365 – has just two settings:
On. The account will fully sync with FullContact. Your contacts in that account will be the exact same as other synced accounts.
Off. Contacts from that account will only be used to enrich your existing contacts in FullContact.
By simplifying these settings, we hope to eliminate a lot of confusion around syncing contacts into and out of FullContact.
New Tags Area & Smart Tags
To improve our navigation, we removed tags from the left column and now display them together in a dedicated area.
This new, easier-to-navigate interface includes your custom tags ("My Tags"), Smart Tags, and Account & Social Network tags.
We also added some new Smart Tags, including Missing Name and Missing Organization, to make it easier to keep your address book organized.
Business Cards & Email Signatures Tags
We replaced the old Business Cards and Email Signatures sections with new Smart Tags for each. This way you can quickly filter your contacts by those with a business card or email signature.
Source Tags
In the old version, you could use a dropdown menu to filter your contacts by account or social network, such as Google, iCloud, Exchange/Office 365, Twitter, and LinkedIn.
In the new version, we created a series of tags for all your "Sources," including accounts and social networks.
You can use these tags to see different segments of your contacts, including contacts from Twitter and LinkedIn that you decided not to import and sync. They also help you know at a glance which of your accounts are set to sync with each other.
Your Feedback
Over the coming months, you'll see new features appear on a regular basis, including many features designed for teams and businesses. We'll also continue to make improvements to our user experience.
We'd love to hear what you think. Please email us at feedback@fullcontact.com with any suggestions.
If you are experiencing any bugs or other technical problems, continue to email support@fullcontact.com.
Feel free to go give the new app a try! Thanks for reading, and thanks for using FullContact!